The following is a story of persistence and dedication shared by our friend and Whitetail Properties client, Brandon Lamb. Brandon shares his commitment to balancing farming efforts with a low impact on local wildlife, creating the ideal conditions and habitat for a thriving whitetail deer population on his Illinois hunting land.
The Search for a Hunting Farm for Sale in Illinois
A few years back, I started to get serious about buying a hunting farm in the Midwest.
I've leased land for years and have found some good places to hunt, but I have always wanted something I could call my own and manage the way I wanted. I knew it wouldn't be hundreds of acres, but if I could find the right 60-80 acre piece in the right area, it would be a start.
My good friends, Wes Haertling and Paul Johns with Whitetail Properties Real Estate, had been helping me look for buying opportunities for a healthy parcel of land for sale in the Midwest.
In January 2019, we finally saw a piece come up for sale a short distance from a house I owned in Illinois. It was in January in the Midwest, so it was bitter cold with a lot of snow on the ground. Despite the harsh conditions, Wes and Paul walked the property and gave me their opinions. Within a week, I arranged to drive up and look at the property myself. Through the snow and two-degree temperatures, I immediately knew it was exactly what I was looking for. The sellers accepted my offer, and the property officially became mine in early March.
Cultivating a Healthy Hunting Farm in the Midwest
I made a trip to the property nearly every month that first year, putting in a ton of work and making everything the way I imagined. I was still hunting some other places, so I waited until early November to hunt my new farm. On November 5th, I got the surprise of my life when a 179-inch, 13-point came out of nowhere. He was by far the largest buck I'd ever killed.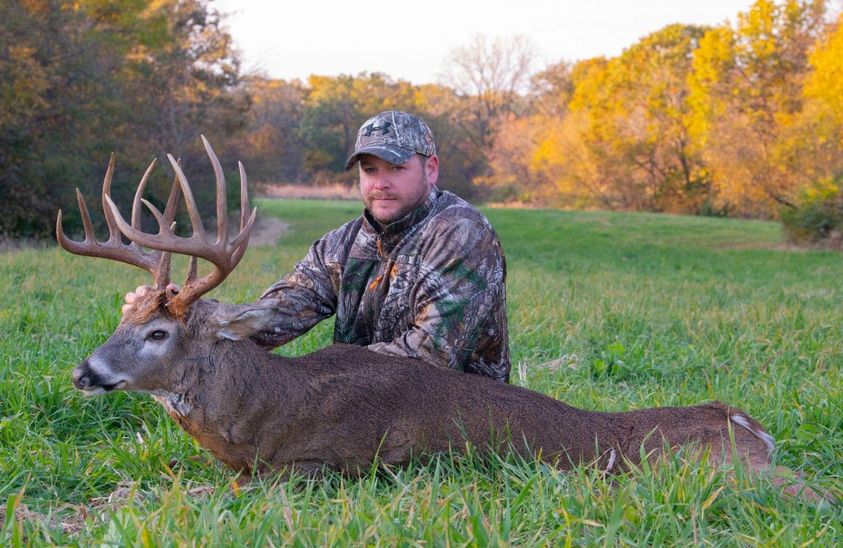 The second year, a good friend of mine was able to purchase the neighboring farms that connected to mine, so now our group of friends had three adjoining pieces we could all manage together. Some promising up-and-comers showed up, including a main frame 10 with split G-2s, scoring in the mid 140s, and a unique wide-frame seven-point. In mid-summer 2021, we started getting pictures of the wide frame buck, and he was adding a lot of inches and was now a main frame 10 point. I started paying attention to this buck since he blew into a unique deer in the 170s. He was consistent on trail camera and I couldn't wait for the season to get here.
An Obsession Begins
As summer turned into fall, this buck's pattern shifted. I put up a couple of cell cameras around the start of the season and captured him on what I thought was the edge of his fall range. It made my obsession with him even worse, and I decided to dedicate my season to this one deer.
I was hunting the pre-rut in early November and only got one glimpse right at dark. I had left on November 6th to head home for my son's playoff football game. While I was sitting in traffic trying to get to the game that evening, my phone dinged. There he was on the trail camera, walking right by my stand. I couldn't wait to return to the farm the following week. I started getting his picture nearly every day leading up to my trip back, and it was driving me crazy, being eight hours away. As it turned out, I would make multiple trips back throughout the rest of the season and never did get an opportunity at him in 2021.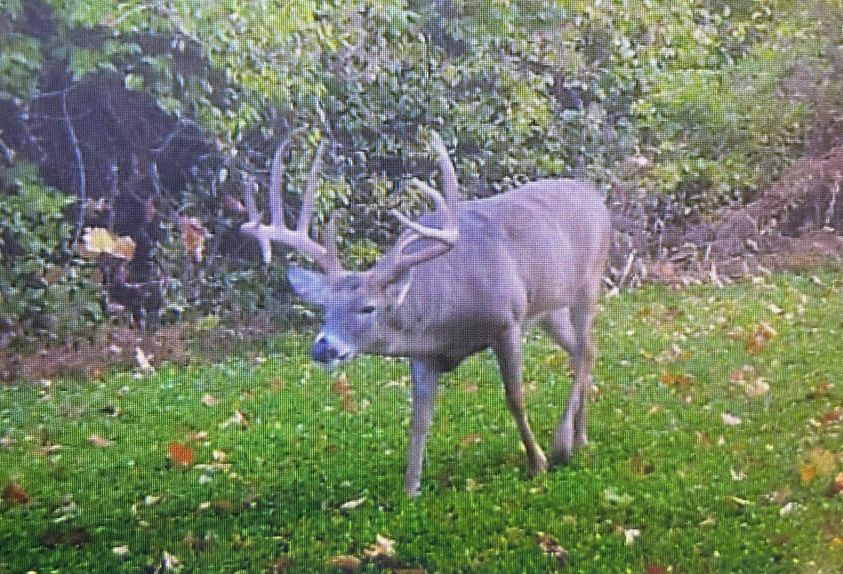 Turning the Page to 2022
The next season, it didn't take long for him to reappear. I began seeing him in late spring while planting food plots. He stood up from some tall grass and watched me roll by on the tractor a short distance away. We continued to get tons of pictures through the summer and were excited to see he was making another big jump in size. If it weren't for his tell-tale brow tines, I wouldn't have been sure it was even the same deer.
In September, something in his pattern changed and I went for nearly a month without a picture, just like the previous year. It was a very dry summer and my concerns for EHD were increasing. I called everyone I knew to see if anyone was finding any dead deer.
I had almost convinced myself he was dead when I woke up one morning and had his picture from the night before. The chase was back on. I felt I had a good chance at him for the 2022 season with trail camera data and studying his pattern from the previous two years.
We headed to the farm the first weekend of October primarily to replant fall plots due to the horribly dry conditions, without planning to hunt much, even though it was the archery opener.
With low expectations, we finished planting and I decided to stay and hunt the evening of October 3rd and planned to head back home the following day. About 45 minutes before dark, I saw a deer step out of the tall grass about 40 yards away. As he stepped forward, I saw the drops at the end of his beams. I knew I was about to get the opportunity I had been dreaming of.
Unfortunately, I couldn't get my nerves in check and my arrow sailed over his back. I was crushed at first and then watched in disbelief as he calmly walked out of the field, completely unaware of what happened. I began to feel like it wasn't meant for me to kill this deer. The drive home the next day was miserable as I replayed my blown opportunity in my mind repeatedly.
We returned to the farm for a few days in mid-October but never saw him. I decided to wait until the end of the month for some colder weather to roll in.
A November Cold Front Makes Dreams Come True
A solid cold front finally came toward the end of the first week of November, so I took the next two weeks off and planned on hunting hard. I pulled into the farm midday on November 5th and got ready for the afternoon, heading back to the same blind I missed him from just a month prior.
Deer were moving as soon as I got settled in. Several does filtered through and with an hour of daylight left, I looked to my left as he stepped out of the woods into the bean field about 80 yards away. In amazement, I wondered, "Am I really about to get another opportunity at this giant?"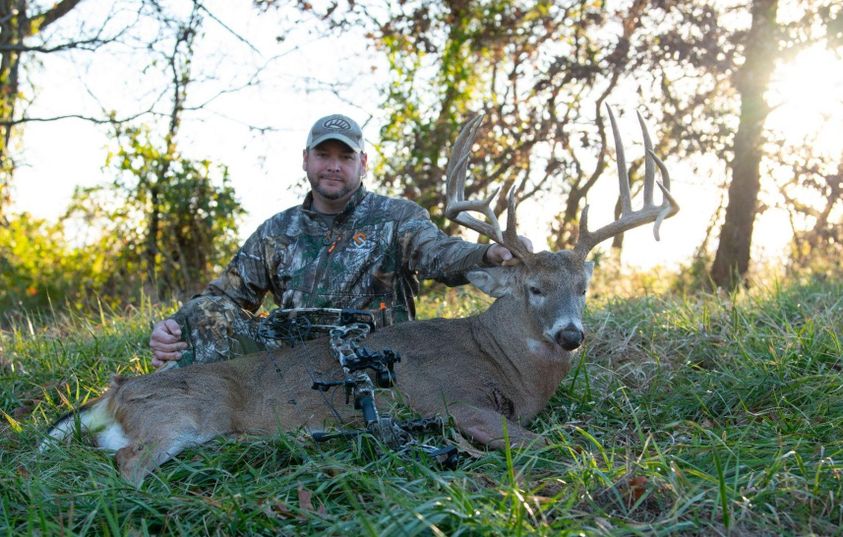 He slowly fed and watched for ten minutes. I was on the edge of my seat, deciding which window I might get my opportunity from. Finally, he committed and began closing the distance fast. I carefully opened the window and drew my bow. He stepped into the window opening at 35 yards, where I stopped him with a soft grunt. I took an extra second to calm my nerves and settle my pin. I wasn't going to make the same mistake twice. I let the arrow fly and watched my fletching hit my mark. I knew instantly the hit was good as he immediately put his head down and started plowing across the bean field for about 40 yards before tipping over.
I sat in amazement, processing what just happened. I'd been dreaming about this buck for two years and couldn't believe I just got a second chance at him from the same blind in nearly the same spot in the first two hours of what I was expecting to be a two-week long hunt.
After gathering myself and making my way over to where he lay, I was amazed at how big he was, much bigger than he looked from all the trail camera pictures I spent hours studying. After putting the tape on him, the incredible buck scores 192 5/8, my biggest buck ever.
Reflections on an Illinois Hunt of a Lifetime
Reflecting on the takeaways of how this all came together, I think the key to getting two opportunities at a deer like this was controlling hunting pressure on my land.
I never go into the woods–only once in the spring shed hunting, but not again. So even when we are working and planting, it's mainly in the fields, and the deer can stay in their beds without being disturbed. This low-impact approach on smaller acreage is what I want to be able to control, along with improving habitat and food sources.
This wouldn't have been possible if I hadn't owned the land, and is part of what makes owning a place of your own so special.
Brandon Lamb
Whitetail Properties Client and Friend
–
For those looking to find the perfect hunting farm for sale in the Midwest, contact your local Whitetail Properties Land Specialist or visit our website to browse available properties for sale.