By Chad Brooks
Back in 2015, Jeff Lindsey of "The Lindsey Way" — a whitetail hunting series featured on the Sportsman Channel — introduced me to Joe Gizdic of Whitetail Properties. At the time, Joe was chasing a 200-inch buck on farmland he leased. But he needed some people to go in on the hunting lease with him. So me and a few friends, along with Joe, leased this farm in Greene County, Illinois.
For a number of years, Joe had been after this 200-inch deer, which also had a distinguishing and very large drop tine. Well low-and-behold, the first night on the farm, I had the deer with the drop tine come out on me at 30 yards. I had a doe-decoy setup, and he came straight to the decoy. When I shot, my arrow hit a limb and went over the buck's back. I was devastated. Of course, my kids gave me heck about it. That was the last time any of us would have at the big drop-tine deer. No one saw it again.
Fast-forward to 2017. That's the year I asked Joe if he had any small tracts available for purchase. I wanted a property ideal for deer hunting. Joe said he had the perfect farm: a 57-acre, wooded property in Greene County. Right where we wanted to be. It is extremely hard to find 57 acres of big woods without any tillable for sale. So I went and looked at the farm and began negotiations with the owner through Joe and Whitetail Properties.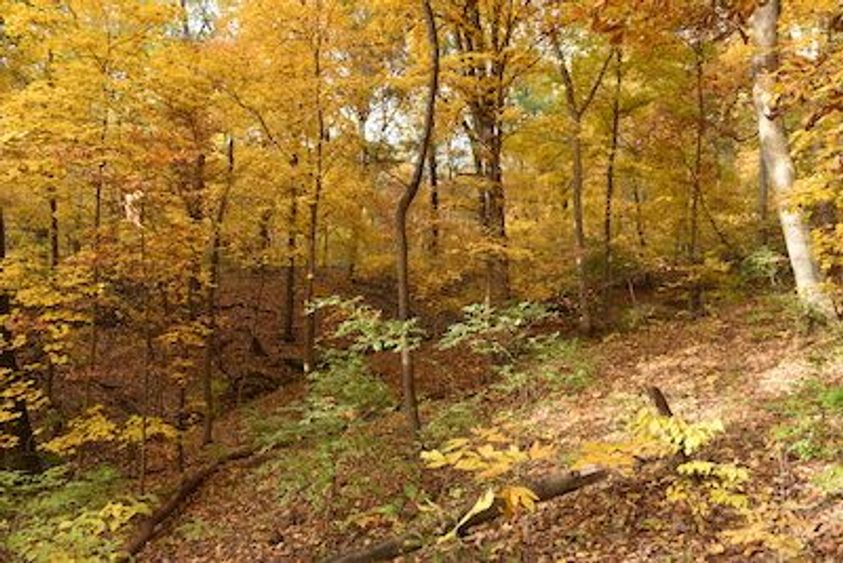 Having missed the big, drop-tine buck right up the road in 2015, we now realized we might have a chance at another deer-of-a-lifetime. So my kids named the deer "Redemption." During the 2018 bow season, I had this drop-tine deer at 50 yards. He was running a doe, but I couldn't get a shot on him. Then during the gun season of the same year, my son Hunter had him slip by as he was walking up a hill, directly away from him. Instead of spine-shooting the deer, Hunter elected not to take the shot.
When we got out of the woods that evening, Hunter could not stop talking about the size of Redemption. I told him I was very proud of him for not taking the shot and assured him that we would get another opportunity. I really felt like the deer was living on us in a major, travel-corridor thicket on our property. We never saw him again in 2018 while hunting.
Then in January 2019, I got pictures of the deer again, so I knew he made it through the season and was still alive. In preparation for this season, I moved one of my stands down into the bottom where we felt this deer was traveling. Numerous trails from three different draws all came together at this spot, and the thicket was directly in front of the stand. This was definitely going to be the spot to kill any big deer that would be in the area.
By fall, one of the neighbors was getting regular daily pictures of the buck, and I honestly thought — because of the regularity of the pictures — this deer would not make it through bow season. Still, I hunted bow-season rut and never saw the deer. The neighbors didn't kill him either. I was beginning to wonder if we just might get the opportunity after all.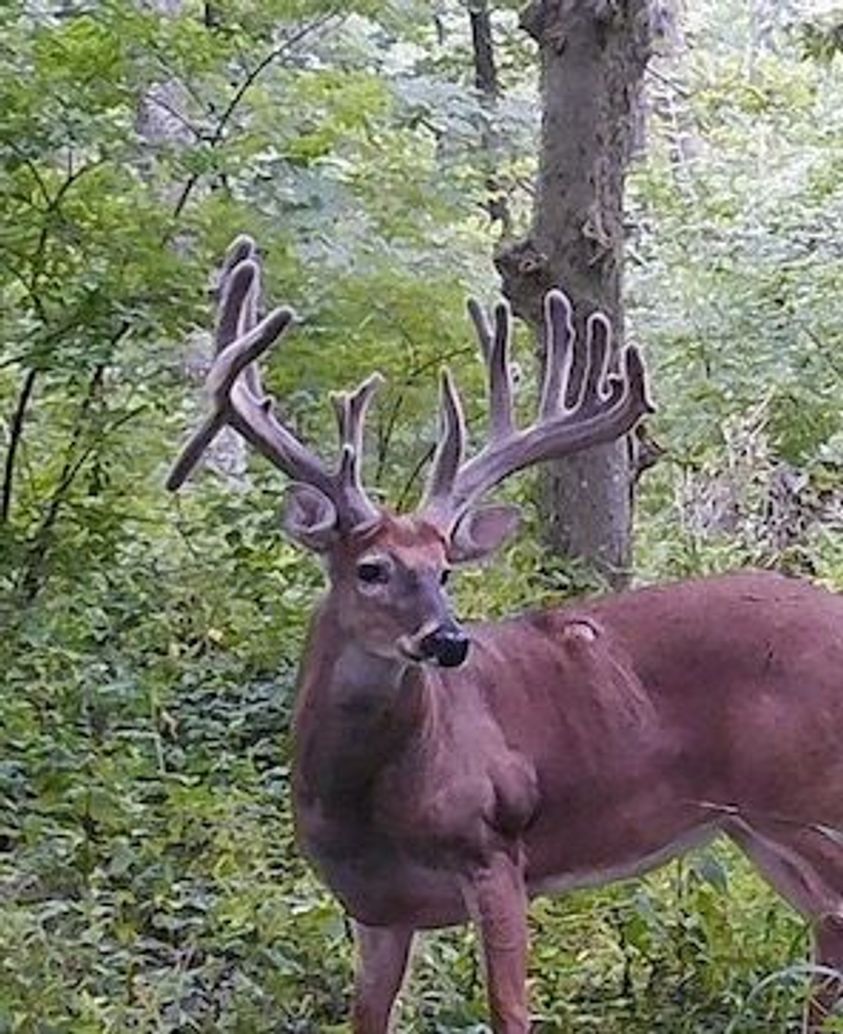 In the dark, Hunter couldn't find the orange flagging leading to the stand even though we'd walked the path the day before in daylight. So instead, he climbed a stand adjacent to a field. I asked him if he used his headlamp. He said no. He used the green lamp instead, and could not see the orange ribbons. I told him he really needed to be in the stand we had moved, and encouraged him to go ahead and turn the headlamp on and just get it over with and find the stand. So he got down, turned his headlamp on and found it.
The sun had been up for about 30 minutes when I felt my phone vibrating again. It was Hunter. I'm thinking, what could be wrong now? I answer, and Hunter can barely talk.
"I just shot the drop-tine deer," he said.
The buck had broken off the drop tine, but Hunter was sure it was him. Yet, because of the way the deer ran off, he thought he had missed. Hunter stayed in the stand. and I sent his brother Tyler over to look for blood.
As soon as Tyler started looking, he found white hair, then a blood trail. So I had them back out, and wait for me. My wife and I immediately went over to the property to track the deer. Right after Hunter shot, the neighbors hunting an adjacent property shot twice, like 30 seconds after Hunter shot. So Hunter is thinking he made a bad shot on Redemption, and the neighbors shot him.
I texted the neighbors to let them know that we had shot the drop-tine deer and to try and find out if they had shot at him. But the neighbors shot a 9-point buck. Once we started tracking the deer, we had good blood. The deer had run onto the neighbor's property. I called him, and he came over to look for the deer with us. He had been after the deer as well, so he was excited to help.
We continued tracking, there was one last large puddle of blood, then nothing. The trail completely dried up. Up until that point, the deer was steadily moving downhill, so my neighbor and I kept going in that direction. My wife and Tyler stayed where the last spot of blood was, then went up the hill into a thicket to see if the deer had gone that way. I was becoming concerned at this point due to the white hair and the loss of blood. Maybe the deer had not been fatally hit?
My neighbor had a number for a local tracking dog, so I sent the guy a text. As soon as I did, Tyler hollers, "I got the deer!" It was him! We ran over to where Tyler stood, and we all had a moment of jubilation. Our story had come to an end.
Come to find out, Hunter's shot was a very good shot. Just a little back. Hunter shot him dead center and got all liver. Due to the angle, the shot came out through the belly, which explains the white hair. The deer had only run about 75 yards.
All of the years this deer had slipped by hunters, the number of people who had missed shots, and now it was finally over. There he was. Who would have thought Hunter would have a second opportunity at Redemption a year later.
Being a landowner is a blessing and a dream come true. We never had much growing up. Through hard work over the years and many blessings, I was able to become a landowner in the Midwest. Even though we dreamed of owning our own land, harvesting such a magnificent animal on our own farm is something that I never dreamed of. Then having the entire family there to share in it was an experience I can't even describe.
Leases come and go, but knowing that you have a farm for you and your family to enjoy any time you want is so amazing. Our family is making memories that will last a lifetime!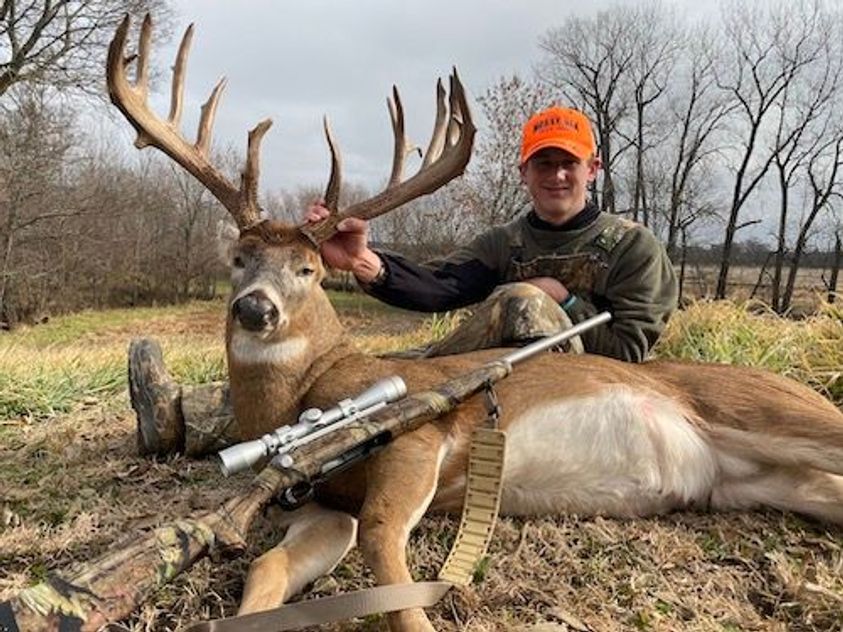 Photos courtesy of Brandon Steckel.