I grew up hunting in homemade blinds that didn't leave much to be desired. Often drafty and leaky, these old structures were put together to serve for a few seasons, but ended up sitting in the elements well past their intended lifetimes. I can blame my grandfather for that - wanting to ensure his handiwork lasted as long as possible before he had to construct more.
One summer he decided to build new blinds intended to be larger and sturdier than the previous lot. That hunting season, no drafts swirled in through gaping cracks, nor did water drip from the roof. A few of those blinds still stand today and see minimal use. These days, we mostly use Banks Outdoors' blinds. Not only are they durable and last for years, but they're comfortable and roomy enough to take along a spouse or child.
Even still, there are those times where we need another option in a pinch - when time and money are in short supply. In those instances, building a blind is great option. Here's a few examples to keep in mind this deer season.
Box Stand
Cost: $100-$300
This design is four feet long and six feet high, which offers plenty of room for you and another. It features one door with two small shooting windows and one large one. It's best to use treated lumber to increase the lifespan of the structure. Here's what you'll need:
(12) 8 foot 2x4s
(3) 8 foot 1x2s
(5) half-inch sheets of plywood, cut to 4 feet by 8 feet
(2) 4x8 corrugated tin sheets
(2) door hinges
Construct a base using the 2x4s, cut to be 4 feet by 8 feet, then attach the 1x2 support lumber to steady the structure. Next attach one of the sheets of plywood as the floor by screwing it on the base. Use 2x4s to start building the frame, ensuring the back slopes downward toward the front of the blind. This enables water to flow off of the roof. Having it six feet tall should be plenty for most people. If you're taller, adjust the height.
Screw the 1x2 horizontal supports onto the frame that will also act as a shooting rail in the front and sides. From there you can attach the walls from the remaining sheets of plywood. Cut a large rectangular hole in the front, two on the side walls to serve as shooting windows, and a door on the back. Use the piece of plywood you cut out for the entryway to serve as the door. A door handle and latch is a nice touch to allow for easy access and to keep it closed during high wind. The last step is to screw the two sheets of corrugated tin onto the top of the frame and overlap them in the middle.
If you'd prefer an elevated blind, check out mounting brackets from Southern Outdoor Technologies, which provides a solid foundation for a frame. We recommend having your blind sit at least seven to eight feet off the ground. This will allow for a larger field of view. You'll need four 4x4 beams, and then eight pieces of 2x6 support lumber to secure it into place. Screw the lumber into the mounts and attach it to the base of the blind.
The final touch is to paint the outside. Olive drab spray paint works best, and you can use tan or black to spray lines that will break up the shape nicely. Camo netting along the windows will help to conceal you but isn't necessary. It's best to disassemble the blind in sections and reassemble at your hunting location.
Hay Bales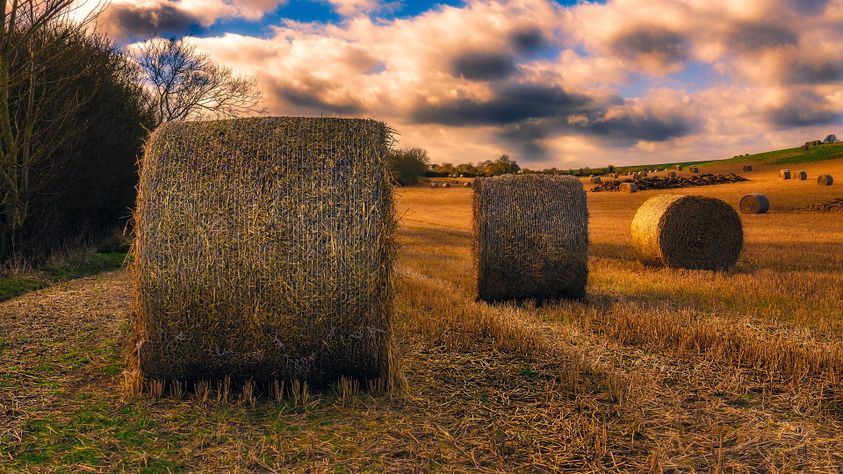 Cost: $100 (tractor gas, two bales of hay)
If you hunt near a field where hay bales are produced, this option will work great. The deer are already accustomed to seeing them and they'll have no idea you're there. No need to get fancy and construct a framed blind with a hay exterior. Simply use the tractor to move two bales close together and fill in the gaps with more hay or branches. If you have access to square bales, pile them onto one another to create a wall between the gaps. If not, pile loose hay in front of you and behind you to break up your silhouette.
Natural Blind
Cost: Free
Make a blind within minutes using the vegetation around you. Find a fallen tree if you can, but using any brush to break up your outline is best. Gather nearby sticks and lay them vertically along the tree's base to create a wall. You want it to be high enough to conceal most of your body while you're seated. On the exposed side, shove sticks into the ground until you've created a small spot just enough for you to sit or draw back your bow comfortably. Then continue piling sticks and leaves on the wall until all of the holes are covered. While this blind won't last very long, you can continue to doctor it up as needed. Besides, once it falls victim to the elements, all you'll have lost is a bit of time.