What are buyers looking for in an auction sale?
Joe Gizdic, Director of Ranch and Farm Auctions at Whitetail Properties Real Estate, shares that buyers prefer income-producing land over recreational land when purchasing at auction. They are looking for tillable pasture, income-producing ground, or land fit for lease, rent, or parceling.
In addition, land held within trusts and estates is a perfect fit for auction (and is often mandated to be sold in this manner).
If your property fits any of these criteria, selling your land at auction may be the best way to ensure you capitalize on your investment.
How do you determine the value of your property for sale at auction?
According to the USDA, farmland values continue to trend upward. Market increases mean that your farmland is worth more now than ever, and auctions remain the most effective way to get top dollar for your land.
Partnering with a trusted ranch and farm auction broker is the best way to ensure that an expert eye analyzes every inch of your property to maximize its value at auction.
Some of the factors that may increase the value of your land include:
Healthy crop harvest reports
Conservation values
Adjacency to protected land
These are only a few of the factors that may determine the value of your property; a thorough investigation into both the present and potential income generated from your ranch or farm will yield the critical information that will help you list your property at the perfect price point and communicate its true value to potential buyers.
The Auction Process from Listing to Closing
Whitetail Properties Real Estate has crafted an auction division specifically to meet the needs of ranchers and farmers across the nation: Ranch & Farm Auctions, LLC.
When you list your property with an auction specialist like Ranch & Farm Auctions, LLC, you can expect the process to take approximately 90 days from launch to closing as we work with a time-definite auction process.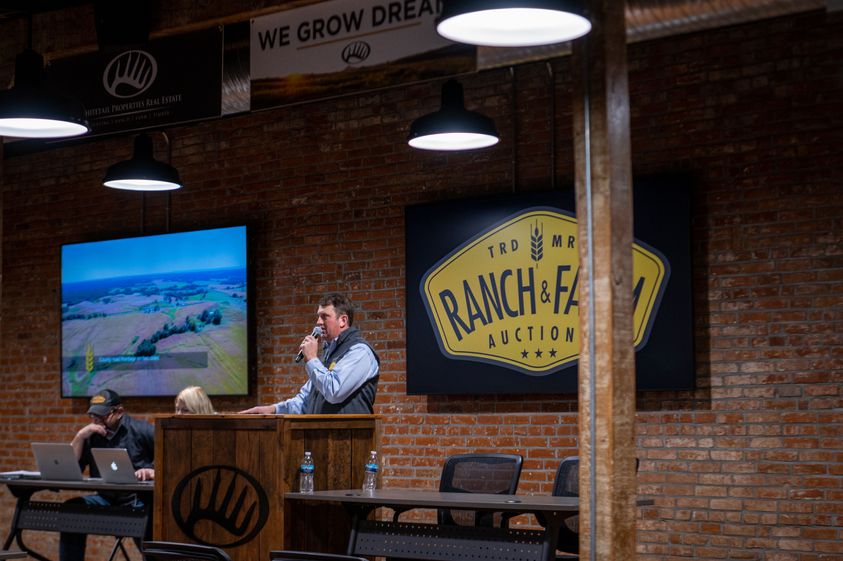 Step 1: Complete due diligence and thorough property analysis.
Joe Gizdic explains this data collection stage is crucial for understanding the inherent value of your property. When a client lists with Ranch & Farm Auctions, we collect soil maps, fertility records, EPH documentation, crop reports, conservation practices, Conservation Reserve Program (CRP) enrollment information, timber value or timber sales history, land lease potential, and more.
Step 2: Complete a comparative analysis of nearby ranch or farmland sales.
Step 3: Create a customized marketing package with scroll-stopping videography and photography. Set a date for the auction.
Step 4: Market the property.
At Ranch & Farm Auctions, LLC, we target the national market to reach qualified investors and buyers at the local, state, and national levels using the trusted Whitetail Properties Real Estate network and commitments. We handle all potential buyers' inquiries and requests and garner interest for auction day.
Step 5: Auction Day!
We conduct your auction live and manage bidding until your highest and best-qualified bidder signs a contract and submits their nonrefundable deposit. Depending on your agent, bidding may take place in-person, over the phone, and live online – or a combination of all three.
Step 6: Manage the closing process.
If adequate data and documentation have already been collected and completed, this phase of the land sales process – while complex – can be managed easily with the right team on your side. Inspections and appraisals are completed, and any trusts, leases, and additional information are collected and submitted between you and your buyers through your agents.
2022 has been a banner year for auction sales, with over 80 Ranch and Farm auctions set to close out by year's end. Browse Ranch and Farm listings or reach out to your local Land Specialist to find out what your land may be worth at auction.