The rural land market continues to surge and, so far, this is in spite of notably low inventory and what's projected for 2022: a series of interest rate hikes.
Reports of impending hikes made the news early last fall, and reports continued throughout the end of last year. The first increase to interest rates is expected to come in March. But as we wrote in a recent blog on rural land lending, this isn't really news.
Since 2020 and that year's interest rate cuts, there's been nowhere else for rates to go but up. So the outcome we expect now — interest rate hikes — was always inevitable. Even more, we don't expect the rural land market to go stagnant. Instead we continue to see record-high land values with landowners getting top dollar for land that's being sold. The reality now and as we move ahead into 2022 is clear: There's never been a better opportunity to maximize the return on your property than right now.
2021 Was a Record Year for Rural Land Sales
Recent trends and buyer motives from a previous year often inform what we can expect in the rural land market for the following year. In 2020, our company experienced historic sales growth. That year, we sold 433,000 acres company-wide, which totaled $1.8 billion in sales for the year. On average, 10 properties were sold every day, company-wide.
This all took place in spite of many economic and social unknowns. The country was shut down due to a global pandemic and the stock market plummeted. But, ultimately, these factors boosted our marketplace for a variety of reasons. This active, 2020 rural land market maintained its momentum into 2021 and carried it through all of last year.
For 2021, our team sold 670,000 acres company-wide, which was about 35% more rural acreage than what was sold in 2020. That's $2.9 billion in total sales, more than double the total sales numbers we posted the year before. On average, 13 properties were sold every day, company-wide.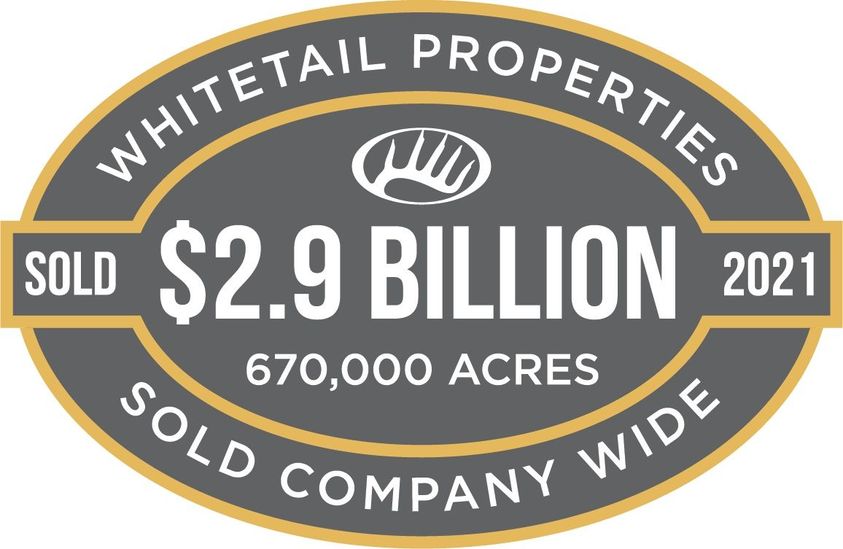 What to Expect for the 2022 Rural Land Market
Currently land inventory is low. For land sellers, this is the factor that carries the most weight. Sellers are in an enviable position and will continue to be throughout the year. Those who purchased land within the last five years with the intent of reselling it for maximum value, should consider selling now. The same goes for those who have owned a property for many years, are considering selling, but aren't sure if now is the right time. There is no better time to get the most value for your land than now.
Conversely, what should those looking to buy land in 2022 expect?
Incremental interest rate hikes – several quarter-point hikes throughout the year are projected – present two factors that will aid those looking to buy land.
First, as interest rates increase overtime, land prices can be expected to stabilize. While this creates a sense of urgency for those looking to sell land before prices stabilize, it presents an upside for those looking to buy in 2022. Eventually, as a result of increased interest rates, we anticipate more inventory to become available creating more buying opportunities. So while land buyers will be affected by higher interest rates, these rate hikes will create a different opportunity for buyers.
Secondly, the opportunity to purchase property at historically low interest rates remains for the time being. Within the next several weeks, we're most likely looking at a quarter-point rate hike. Other increases are coming, sure, but the Federal Reserve favors spreading these hikes out overtime. If a buyer's highest priority is taking advantage of these low interest rates and land inventory is not an obstacle, the window is still open. Still, land buyers must act quickly enough to get ahead of the forecasted rate hikes anticipated throughout this year and likely 2023 as well.
Another factor that has less to do with our current economic environment is the social and cultural impact the pandemic's shutdown imposed on a segment of the U.S. workforce. As the majority of offices sent employees home to work, the shutdown proved that a productive workforce and a remote workforce were not mutually exclusive. In fact, productivity actually went up in many scenarios where office workers were forced to quickly set up home offices and perform their duties away from a centralized office space.
Our company has seen how this new mentality and new opportunity have impacted the rural land market and buyer motives. It started in 2020, but the trend continues.
Craig Baronio, a Land Specialist in Pennsylvania, touches on this trend.
"Most of the people I've sold land to, they're looking for a recreational property and a place to get away with family," says Baronio. "Since spring of 2020, it's been pretty much nonstop. People are learning they can work remotely, and they are looking for places where they can get away and still work."
Looking ahead, we expect this year's rural real estate market to continue at a strong pace rewarding both sellers and buyers. If you're considering selling land in 2022, you should list your property now to sell for maximum value. Start the process by reaching out to one of our Land Specialists in your state or region. Find more information by visiting our List Your Property and Why Us pages.