With whitetail hunting season upon us, every rifle enthusiast knows the importance of choosing the right ammunition for the specific hunt you're on. Success lies not only in your setup and shooting skills (and the months of practice you put in beforehand!) but also in familiarity with various cartridges and how to select them given different situations.
Whether you're a seasoned hunter just starting out, heed the advice of seasoned hunter and Whitetail Properties Real Estate co-founder Wesley McConnell and prolific hunter and Nebraska Whitetail Properties Land Specialist Luke Wallace, both of whom have spent countless hours behind the gun.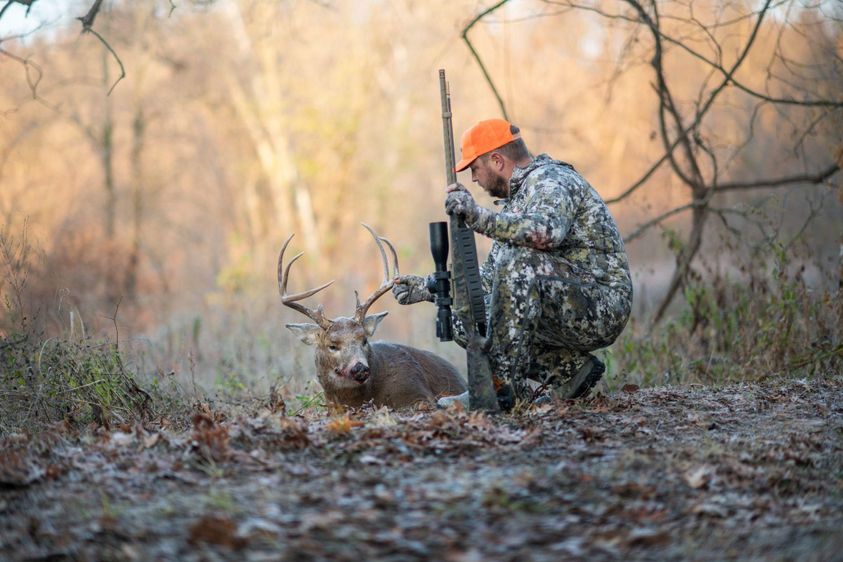 Wes and Luke's Favorite Calibers
Wes:
7mm-08 Remington (best option for kids)
Luke:
Choosing Your Rifle Cartridge Based on Your Hunting Location
Where you hunt should dictate what you use to hunt. "100% I switch out rifles when setting up in different areas," says Luke Wallace. "Each scenario can present itself with varying factors, and I will change up the rifle based upon each scenario."
"In some areas of Nebraska, we have quite a bit of timber," explains Luke. "Anytime I'm hunting timber stands, I prefer a 30-30. The short swing of those rifles with the heavy bullet stands a better chance of breaking the unseen branches and reaching your target than a higher ballistic coefficient round that other calibers carry and can be easily deflected."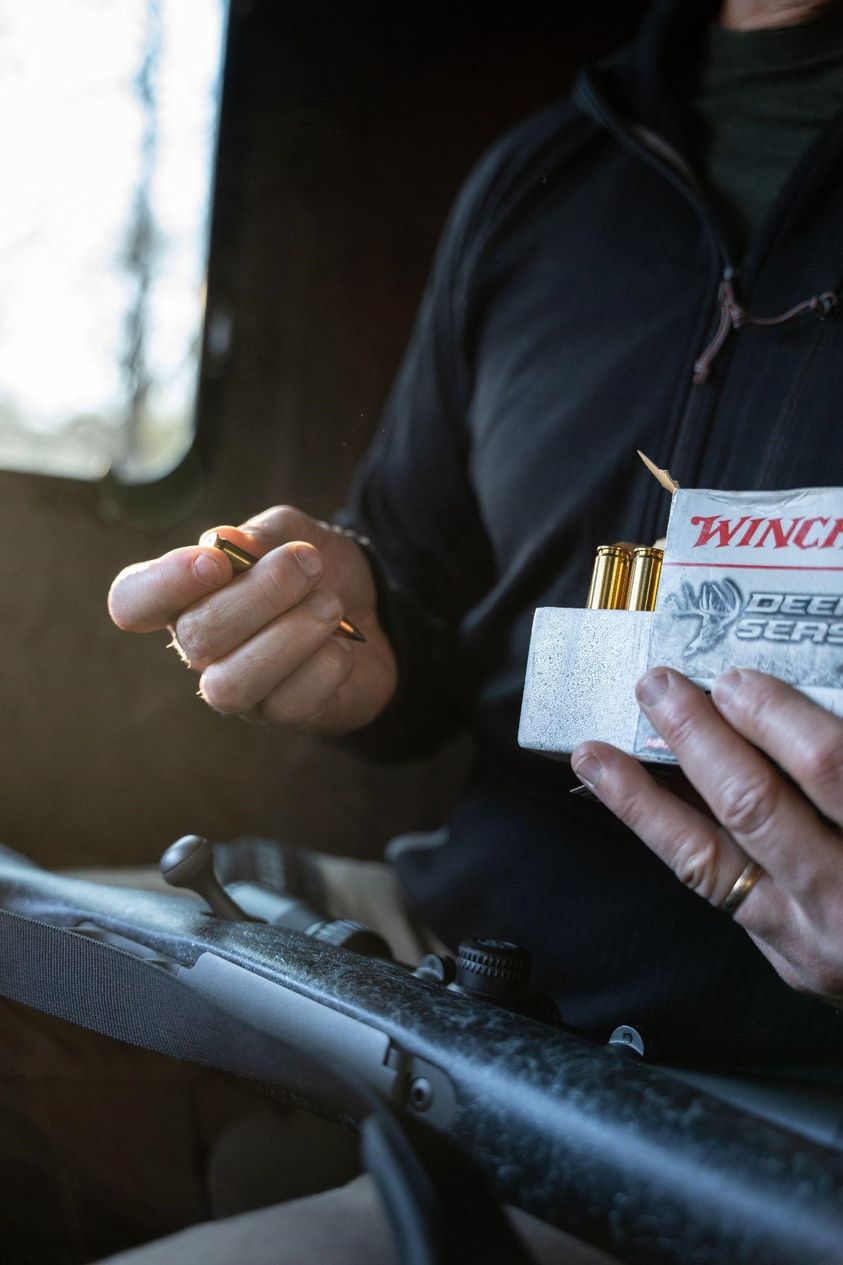 Luke continues: "My go-to calibers in Nebraska would be a 30-06 Springfield, 25-06, and a 30-30 Winchester. I prefer the 30-06 for the one caliber to hunt almost everything. The wide range of bullet weights this caliber offers is unmatched elsewhere. I prefer a 165-grain bullet for whitetail deer in the 100-250-yard range."
Wes McConnell also suggests packing more than one option, especially where he hunts. "In the south, we hunt pipelines and high lines, thickets and cutovers. Some of us are lucky enough to have box blinds over food plots. Some of my shots are at 75 yards, and sometimes I can see over 500 yards (although I've never tried to lob one past 350 yards.) I like to keep it between 100-300 yards."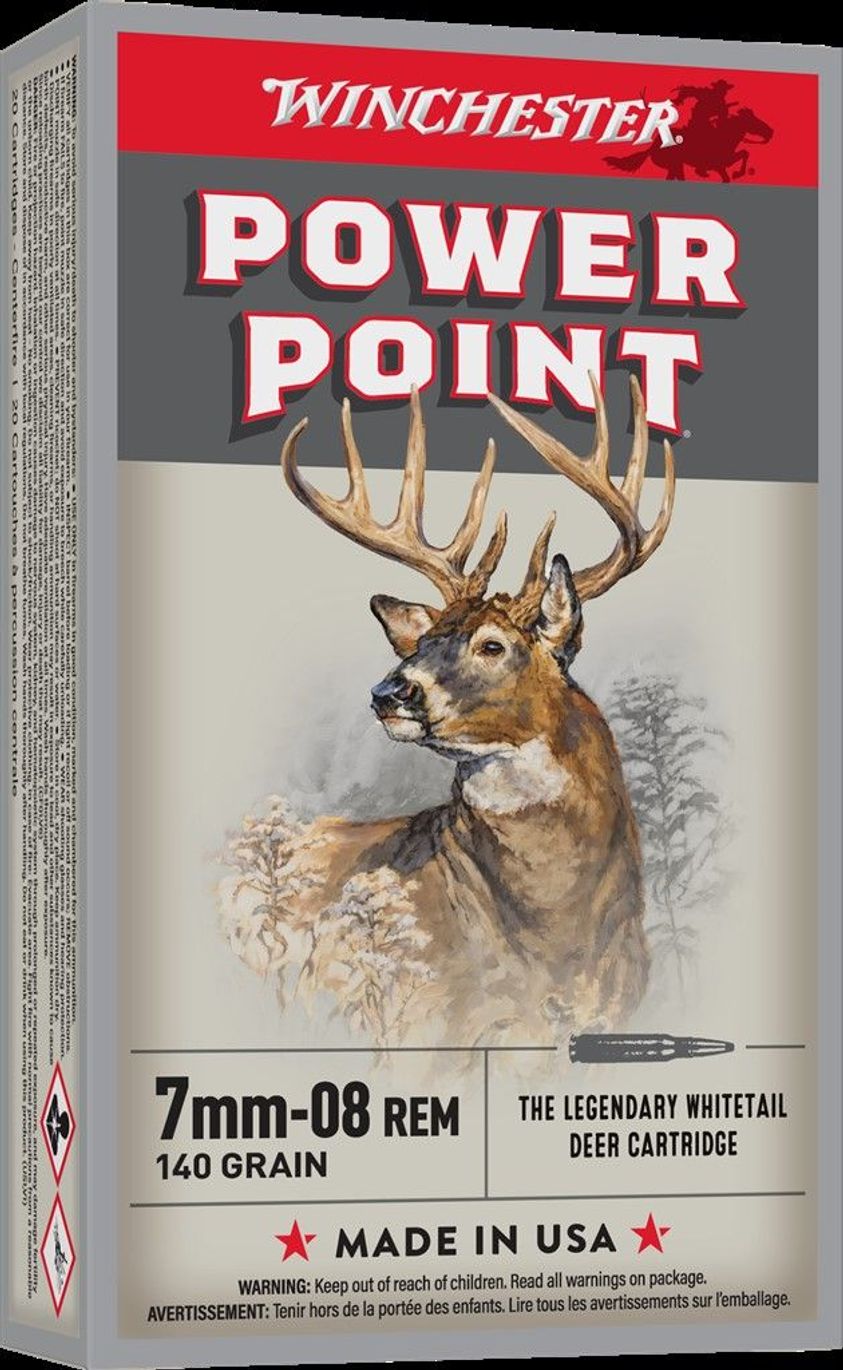 Bullet Features to Consider When Hunting Whitetails
Selecting the right bullet features can significantly impact your success. Bullet weight and construction are the two main factors to consider, while the most important bullet feature Luke Wallace looks for is energy transfer. "Whether you're shooting whitetail at 40 yards or 400, the more energy transfer you can get into that animal, the quicker the dispatch and more ethical the kill."
Bullet weight also plays a crucial role, with most hunters opting for a weight range of 150 to 180 grains. This weight range balances adequate penetration and sufficient energy transfer upon impact.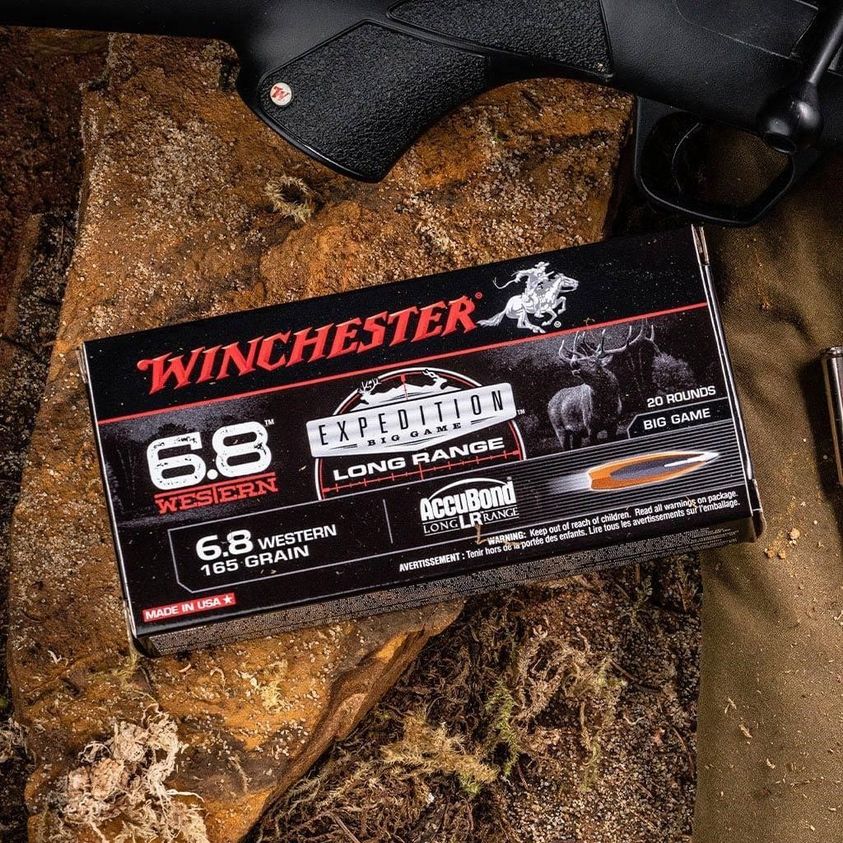 Hollow point or soft point bullets are popular choices for whitetail hunting, as they expand upon impact, creating a larger wound channel and maximizing energy transfer. This ensures quick, ethical kills while minimizing meat damage.
Cartridge Options for Hunting Whitetails
Consider your location, the timber thickness, and proximity to more open fields. For rifle hunting, here are the top choices listed by our land specialists.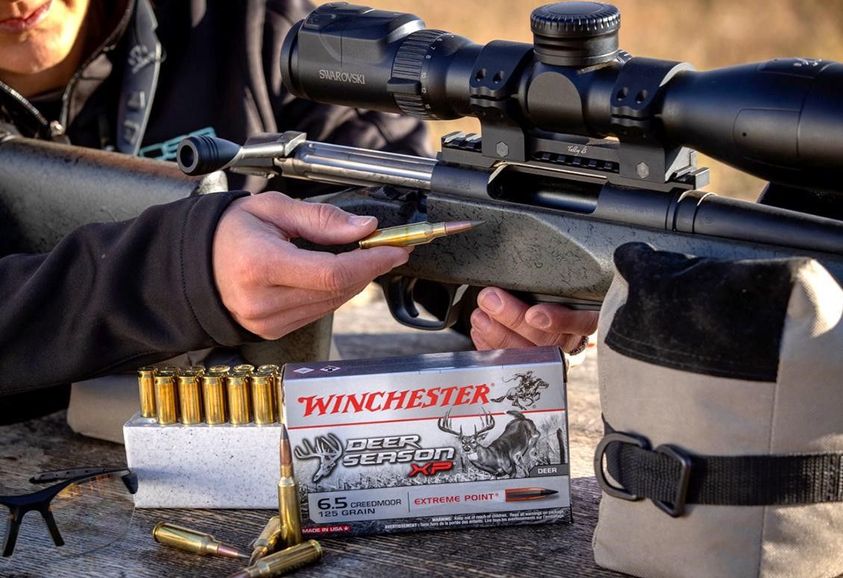 Luke: The 6.5 CM has gained a lot of traction since inception. The opportunity for average Joe shooters to reach out to long ranges may be to blame for the popularity. The same popularity has provided many options as far as both bullet options and rifle platforms.
Wes: Two years ago, we shot a number of deer with a 6.5 Creedmoor. It was recommended to me by a trusted friend for its flat shooting and low recoil for the youth and ladies. I was out of my 7mm08 ammo due to COVID-19 shortages and poor planning on my part, so I put the 6.5 Creedmoor to the test. It killed the deer quickly, and we were able to find all of them. Unfortunately, none of them had exit wounds, and several didn't leave a decent blood trail. So, not my preferred caliber.
.260 Remington
Luke: I shoot the older brother to the 6.5 CM, the .260 Remington. The .260 has a slightly greater case capacity and utilizes the .308 as a parent case versus the 6.5 CM, which has its own case dimensions.
With their purpose-built design for long-range shooting, these magnum cartridges deliver superior kinetic energy and penetration.
Luke: These are both hard-hitting rounds with excellent ballistics. For the whitetail hunter who also chases larger game (elk, moose, etc.), this is an excellent choice for you. I'm personally not afraid of recoil, but both of these can pack quite the hefty punch on the backside of a rifle. If you have no desire to pursue a game larger than whitetail deer, you may want to look at smaller caliber rounds. Your shoulder (and pocket book) will thank you.
Wes: I can still remember harvesting my first deer. At dusk, my dad let me pull the trigger of my grandfather's .308. I was 8 years old, but it still feels like yesterday more than 30 years later. In the following years, my dad was able to buy me and my brother a .270 from a local pawn shop. While that .270 got me through my youth, I'll never pick up another if I have the option of a 300 caliber.

When it comes to hunting whitetail deer at moderate distances, the .350 Legend cartridge has gained popularity among hunters for its impressive performance. Designed specifically for deer hunting, this cartridge offers a perfect blend of power, accuracy, and reduced recoil. With its straight-wall design, the .350 Legend meets legal requirements in many areas where rifle hunting is restricted to pistol cartridges or shotguns.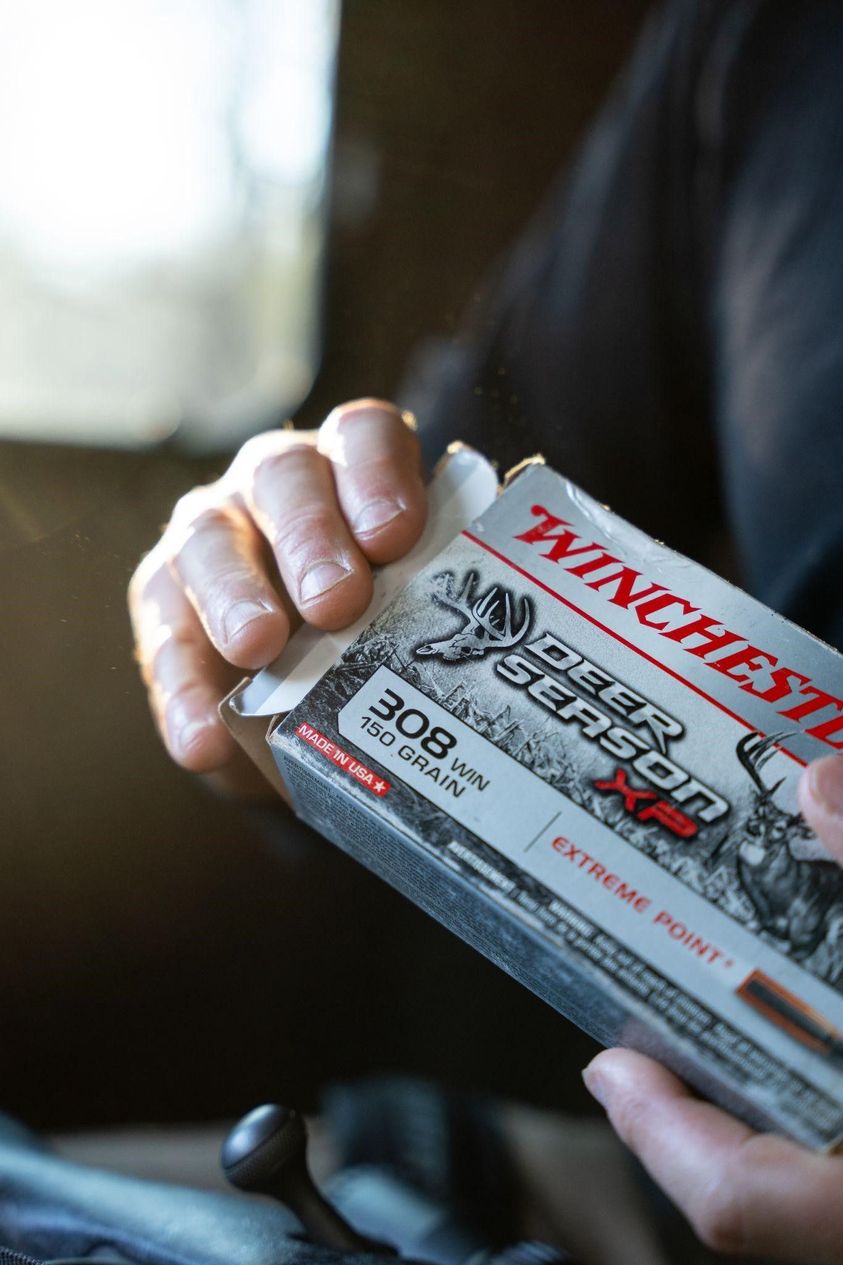 Luke: The 350 Legend has created quite the buzz in the whitetail world as of recently. I own one, have shot multiple deer with it, and it is an excellent tool for my whitetail toolbox. With that, my best advice on this round is to manage your expectations. I shoot 150-grain Deer Season XP's out of this rifle, and I was surprised at both the wind drifts and drop this round has at 200 yards. After much thought, this round is essentially a magnum pistol round coming out of a rifle. Don't expect it to be efficient out to 3 or 400 yards. The heavy round travels slowly and is therefore susceptible to more wind drift. Factor all of this in and learn the effects so that the round reaches the bullseye. I like hunting deer with the 350 Legend, but I also don't take it out and expect it to shoot hand-in-hand with my other rifles out past 200 yards.
Known for its impressive accuracy and flat trajectory, the .25-06 provides the ability to take precise shots at moderate to long ranges in both timber and open fields. With bullet weights typically ranging from 90 to 120 grains, this cartridge offers an excellent blend of speed and energy transfer for deer-sized game. The .25-06 delivers sufficient velocity and bullet expansion, guaranteeing effective terminal performance with controlled expansion and reliable penetration. Its manageable recoil makes it comfortable to shoot, allowing for better shot placement and increased accuracy.
Luke: The .25-06 is another great caliber for whitetails but a distance. If you're looking to shoot 250+ yards, this would be a good go-to. You will sacrifice some knockdown power for that range, though.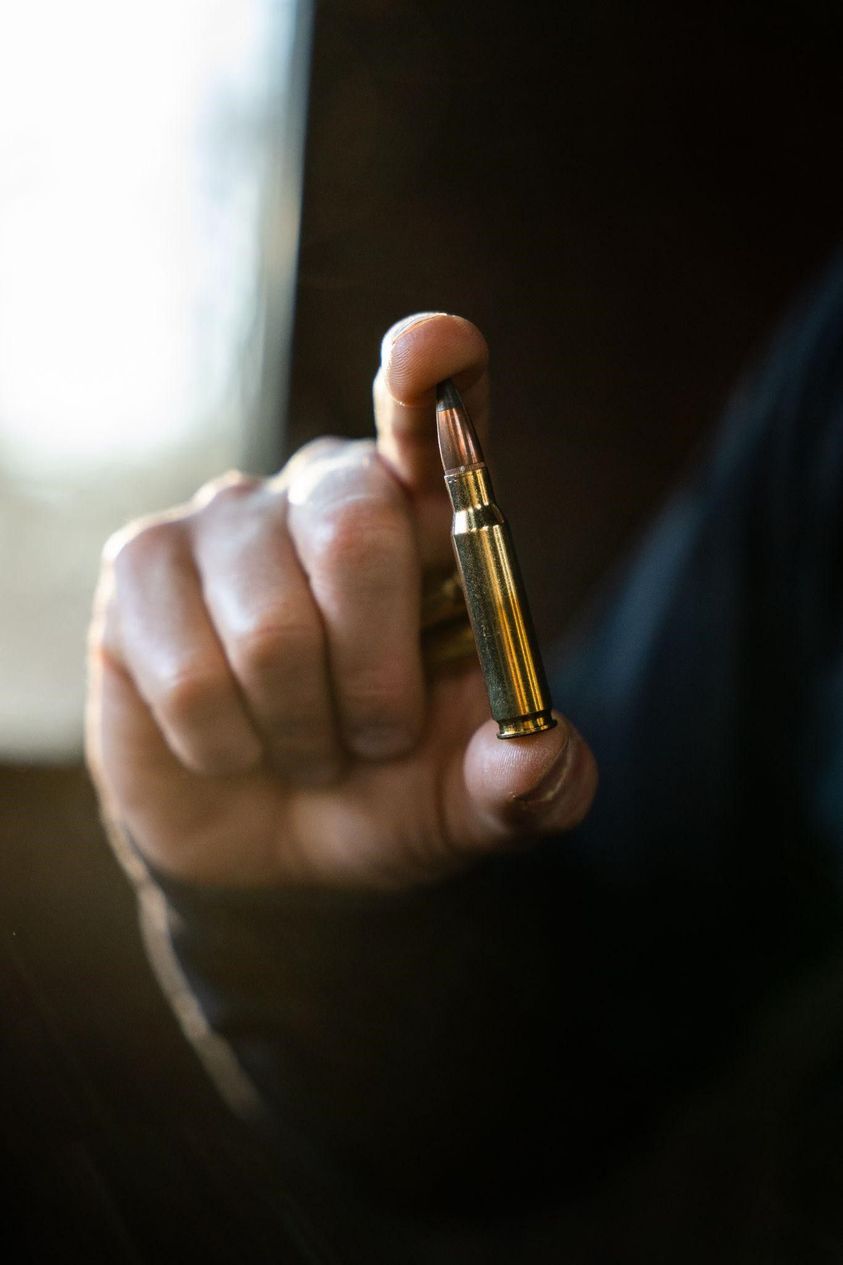 Known for its versatility, the .30-06 Springfield cartridge has been a popular choice among hunters for decades. It's ideal for medium-sized animals like deer up to larger game such as elk or moose. With its reliable performance and manageable recoil, this cartridge offers a great balance of power and accuracy, making it a trusted companion for rifle season. This cartridge also makes a good choice if you are a hunter on a budget or just starting out.
Regarded as a reliable all-around cartridge for hunting, offering excellent long-range capabilities, this cartridge is known for its flat trajectory and deadly accuracy, especially at close range.
Wes: "I never have liked anything with a 2 at the front of it for Whitetails (.223, .243, .270). They get the job done, but I like a good blood trail to follow if I have to track one. I prefer the biggest piece of lead I can hurl down range."
Choosing a Rifle Setup for New Hunters
Luke Wallace gives advice for introducing new hunters to the outdoor world, as low recoil, short range, and accuracy are important.
"The 350 Legend has been my favorite way to introduce the sport to new hunters. I run this round on a Winchester XPR synthetic rifle with a scope I can dial in a specific distance. This ensures my shooter is holding the point of aim where the point of impact will be and avoiding any "Kentucky Windage" guesses."
"A very close second to the 350 Legend would be the .260 Remington which I recommend with my Thompson Center Encore. It's a medium to heavy rifle and is light on recoil. What I like most about it is how safe this rifle is around new shooters. It takes a conscious effort to put a round in the chamber, close the rifle, cock the hammer, and pull the trigger. The shooter must manually make an effort to pull the hammer back versus the small switch of some rifle safety functions."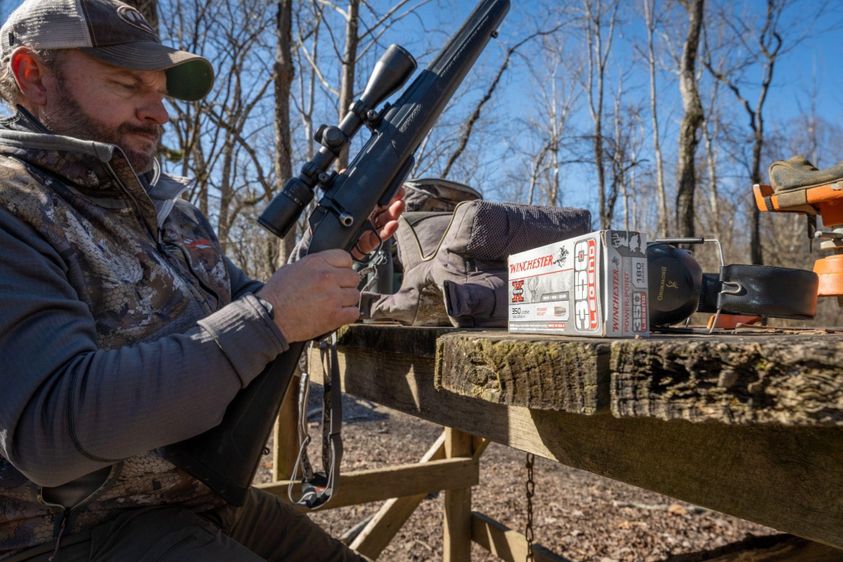 Preparing for Whitetail Rifle Season
In Luke's humble opinion, "The best rifle to shoot whitetail with is the rifle that you shoot accurately (provided it is legal in your state). I have seen grown men who shoot the magnum calibers as some sort of status symbol yet flinch with each shot in anticipation of the recoil. I've likely done that myself in my younger years. I've also seen kids shoot deer with some smaller caliber rifles that struggled to take two steps after impact. Size takes a back seat to shot placement."
Wes and Luke both recommend getting to know your setup, knowing your own limits when it comes to range and recoil, and spending ample time practicing with your choice. "Most of our social circles have one person in it who would be more than happy to help you learn how to shoot," says Luke. "It may only cost you a box of shells and a guest fee on the range."
For Wes, "The bigger, the better, both in caliber and grain. Happy hunting and good luck afield."
To find and manage your own hunting land, browse available listings near you or get in touch with your local agent.