Wild Game Recipe #1: Smoked Duck Soup
Adapted from Hank Shaw's Recipe for Duck Soup
Smoking goose and duck is a popular approach, especially if you prefer to leave your birds whole. If you are lucky enough to have an abundance of leftovers (or plan ahead for another meal), consider this warming dish made by slow-cooking a clear-broth soup with smoked duck meat, button mushrooms, and green onions.


Recipe for Smoked Duck Soup
Ingredients
Broth
2 quarts premade duck, goose, or chicken broth
2-3 smoked duck carcasses or equivalent smoked meat cut into large pieces
2 large carrots
3 stalks celery
1 small onions
Soup
1 lb fresh mushrooms, sliced
2 tbsp melted duck fat (substitute olive oil if you need to)
1 lb fresh greens, such as mustard or arugula
¼ C chives, finely chopped
¼ C fresh lemon juice
Salt and pepper to taste
Heat your liquid to its steaming point and add the smoked bird; there is no need to pre-chop the meat. While that steeps, chop and add the celery, carrots, and onion to the broth. Heat for four hours. Then, strain the broth and keep warm. Remove and shred the meat, and set aside.
Preheat your oven to 375°F. Toss the sliced mushrooms in melted fat and top with salt and pepper. Place on a baking sheet and roast for 15 minutes.
Roughly chop and add your greens and add them to the warm broth, and add the mushrooms and shredded meat. To serve, ladle each bowl of soup and finish with chives, lemon juice, and salt and pepper to taste.
Pro tip from James Beard Award-winning chef and hunter Hank Shaw: With domestic geese, be certain to remove all of the body cavity fat, then prick the skin of the entire bird to help the fat render.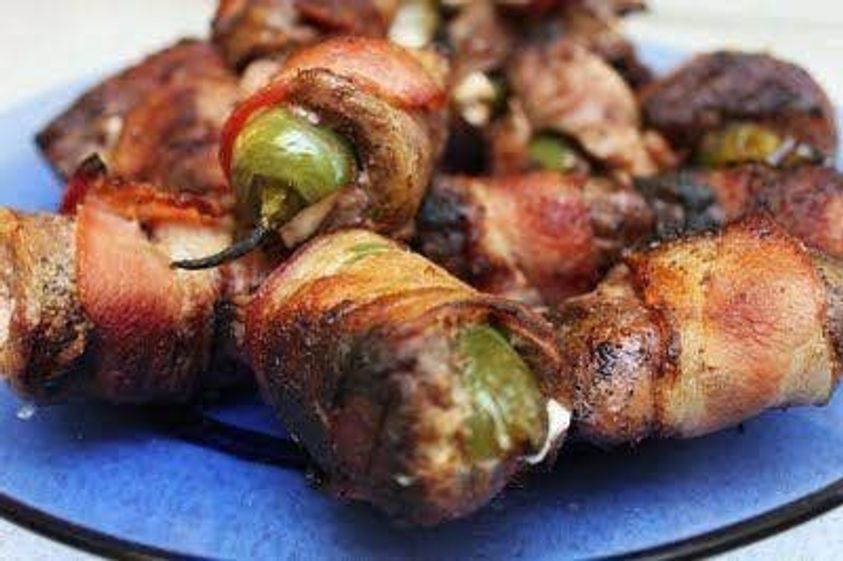 Wild Game Recipe #2: Goose Cream Cheese Bacon-Wrapped Jalapeño Poppers
Adapted from Nevada Foodies
Impress the guests at your next get-together with this wild game take on a melt-in-your-mouth classic appetizer.


Recipe for Goose Cream Cheese Bacon-Wrapped Jalapeño Poppers
Ingredients
6-8 fresh jalapeño peppers
8oz cream cheese, softened
2 goose breasts, diced into small pieces
1 tsp garlic powder
1 tsp onion powder
12-16 thin-cut slices bacon
salt and pepper to taste
¼ C olive oil (optional)
Preheat your oven to 375°F and prepare a large baking sheet with either olive oil or parchment paper. Slice the jalapeños in half lengthwise, and remove the seeds and membrane.
In a large bowl, combine cream cheese, goose breast meat, garlic powder, onion powder, salt, and pepper and mix well until combined.
Fill each jalapeño half with the cream cheese mixture. Wrap a slice of bacon around each cream cheese-filled jalapeño half, securing it with twine or a toothpick if needed. Place the bacon-wrapped jalapeños onto your baking sheet, and bake for 20-25 minutes or until the bacon is crispy and golden.
This recipe is also easily adapted to cook on your outdoor griddle or grill pan, and can easily double or triple to feed a crowd.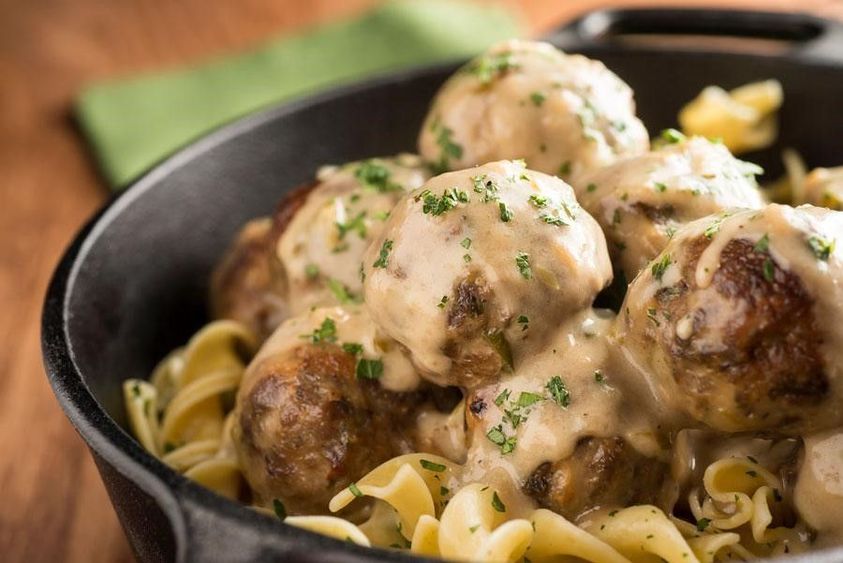 Wild Game Recipe #3: Venison Swedish Meatballs
Adapted from the MI Coop Kitchen
The most tender cuts of venison are best enjoyed lightly seared, basted in butter and rosemary, and cooked to medium-rare. But if your deer is processed into any ground venison, this meatball recipe is a surefire way to create a hearty yet light and flavour-packed dish.


Recipe for Venison Swedish Meatballs
Ingredients
Meatballs:
1 lb ground venison
½ C breadcrumbs
¼ C milk
¼ C finely chopped onion
1 garlic clove, minced
¼ C fresh parsley, finely chopped
¼ C grated Parmesan cheese
¼ tsp ground allspice
¼ tsp ground nutmeg
Salt and pepper to taste
Sauce:
2 tablespoons butter
2 tablespoons all-purpose flour
2 C venison or beef stock
½ C heavy cream
Preheat your oven to 375°F and line a baking sheet with parchment paper.
In a large mixing bowl, combine the ground venison, breadcrumbs, milk, onion, garlic, parsley, Parmesan cheese, allspice, nutmeg, salt, and pepper. Mix until well-combined. Shape the mixture into small meatballs, approximately 1 inch in diameter, and place them on the lined baking sheet.
Bake the meatballs in the preheated oven for 15-20 minutes or until cooked through.
For the sauce:
In a large skillet, melt the butter over medium heat. Add the flour and whisk continuously for 2-3 minutes to create a roux. Slowly pour in the stock while whisking vigorously to avoid lumps. Bring the mixture to a simmer until thickened. Add the heavy cream to the skillet, stirring until well combined.
Gently add the cooked meatballs to the skillet, coating them evenly with the creamy sauce.
Serve the Venison Swedish Meatballs over mashed potatoes, egg noodles or enjoy them on their own. The blend of spices and tender meatballs will leave you wanting more!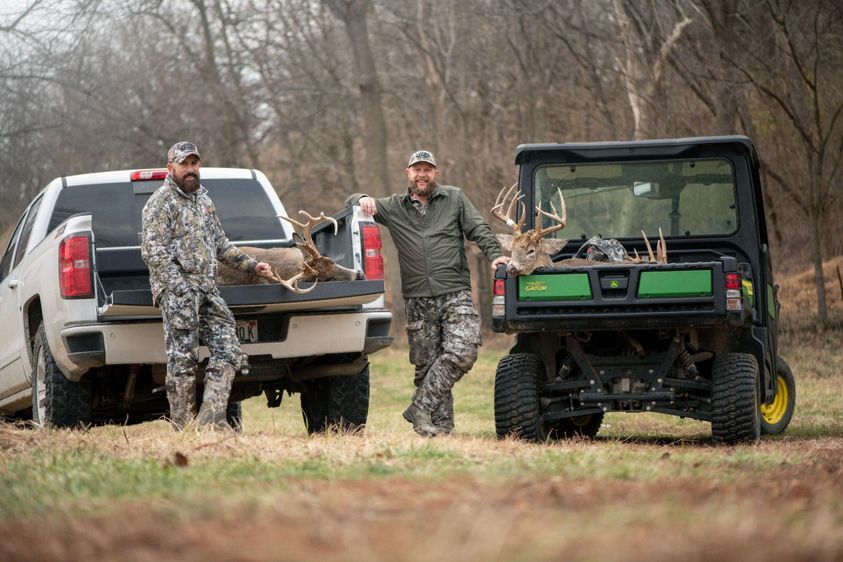 Exploring the world of wild game recipes offers a chance to savor unique flavors and share the success of your hunt. Embrace the adventure and unleash your inner chef the next time you bring home your favorite wild game.
To find waterfowl or whitetail hunting land for sale near you, browse available listings or get in touch with your local agent.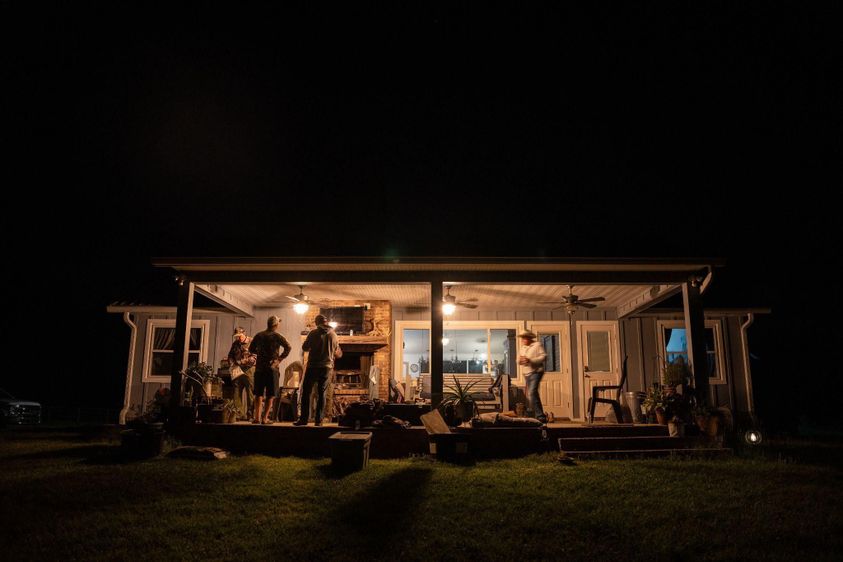 The deep flavors, unique textures, and endless possibilities of cooking wild game can elevate your dinner table and is a great way to share the enjoyment of your success with family and friends. For many hunters, the thrill and excitement from time afield are topped only by the savory bite of perfectly seared venison or enjoying a bowl of meaty and comforting duck or rabbit soup.
Whether you have your favorite go-to wild game dishes and are looking for something new to try or are a new hunter looking to make the most of your stocked freezer, here are a few top-notch dishes we hope you'll try that'll be sure to impress everyone around the Thanksgiving table.