April 13 was my first day sitting behind the gun for the 2021 turkey season, and it was my first time turkey hunting on my home farm that I purchased last fall. The night before, after working on Whitetail Institute food plots down closer to the house, I hopped off the tractor to ease up the hill at dusk with my dog, Yeti, who has been my turkey roosting partner for four years now.
After picking up two sheds that we found in a controlled burn conducted about a week prior, I heard a gobble nearby across the CRP field in the timber. I instructed Yeti to stay close by my side while we drew closer to the gobble, which was responding to not only my hoot owl call but anything else that made noise! I eased up the crown of the CRP field, where I was able to lay eyes on the gobbler through my binoculars, silhouetted against the Illinois sunset. After listening to the 40-plus gobbles that stemmed from anything between hoot owls to the revving of a car engine, we eased out of the timber at dark. I proceeded to call my good friend Wes, who was on standby for the morning hunt.
To me, there's a special feeling about hunting out your backdoor. As I was lying in bed, just a few hundred yards away from the roosted gobbler, I realized I had a cell cam picture sent to my phone of the big tom as he had been heading to roost that night.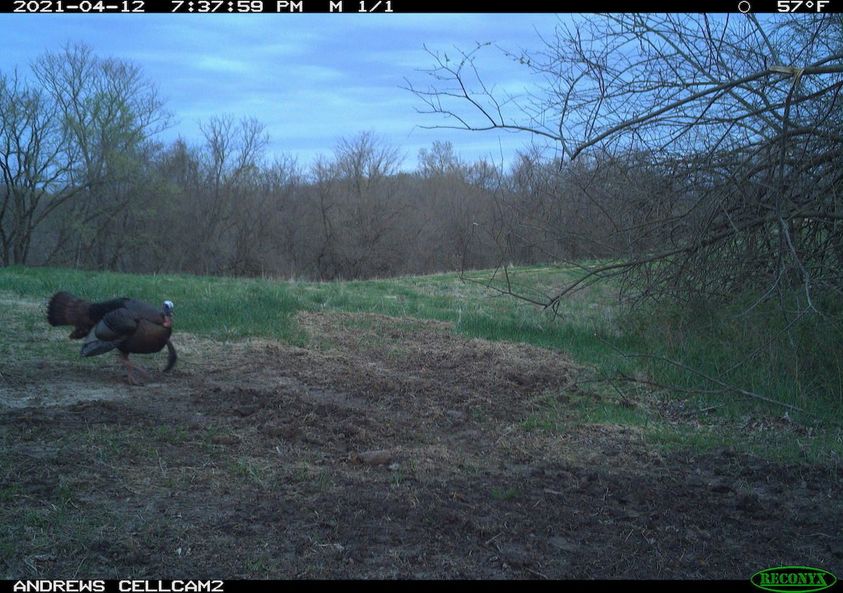 I looked at the beard and realized the bird in the tree was the one I was hoping to kill, as I had a picture of him a couple of weeks prior. After a sleepless night filled with anticipation for the morning hunt, Wes showed up right on time. As we discussed the morning's strategy, we headed out the door, camo on and decoys in hand by 5:00 AM.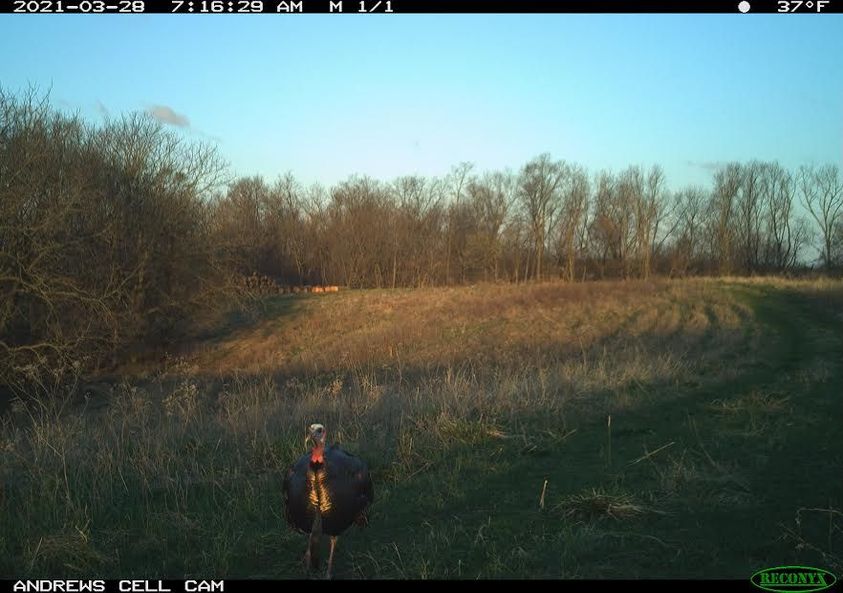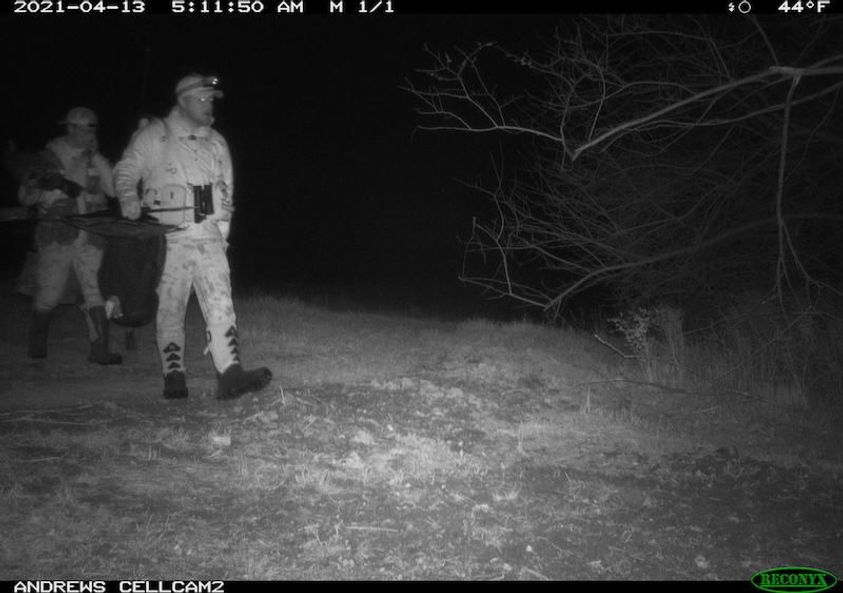 The tom was roosted on the north side of a timber ridge, where I had planted a secluded timber plot right after completing a controlled burn. I felt like this long, skinny plot — similar to a logging road — would be our best opportunity to kill this turkey, and it would allow for quiet entry in the dark. After a nearly flawless setup with the decoys in the middle of the freshly planted plot, we used the starlight to pick what looked liked the two best trees to sit against. Our anticipation rose with each passing minute as we waited for the first daylight gobble. After just 20 minutes, the bird gobbled for the first time, echoing across the hardwood ridge. He proceeded to gobble consistently as daylight increased.
While the bird was still roosted, I did a series of light tree yelps on my slate call, three different times: one series to get his attention, one to ensure I still had it, and as the bird prepared to pitch off the limb, I hit him with one last series of soft tree yelps. The bird gobbled at my call and immediately flew down. It would be his last gobble ever. He landed in the food plot, about 60 yards away through the timber, where he immediately went into full strut. There was a moment of panic as a couple of hens we were unaware of pitched down in the opposite direction. The gobbler paid them no attention, slowly but surely, spitting and drumming the entire time, was on a straight path to the decoys. Upon flying down, I replaced my slate call with my trusty turkey 12 gauge shotgun, passed down to me by my "Papa," who watches my turkey hunts from heaven above. The beautiful tom waltzed down the long narrow food plot to within only a few yards of my decoys, offering a perfect shot opportunity.
With the bead of my gun steady on his white head, I squeezed the trigger. The bird folded immediately, and celebrations with Wes ensued. I can't recall a single turkey hunt in my entire life where the hunt went exactly as it was planned, but for some reason, that's how this first hunt went on my first piece of land I can call my own. To experience such a cool hunt, to harvest a bird with my best buddy on my own land just a short distance from my home, felt different than any turkey I'd ever harvested.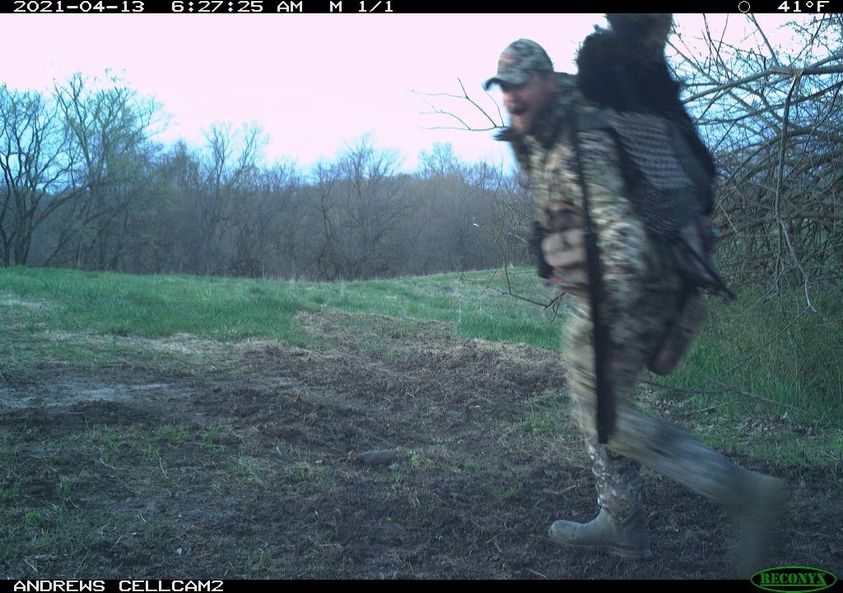 I believe land ownership is the ultimate investment, and it's because of the memories made, just like this one. It may be the first gobbler taken on my farm, but I can assure you it won't be the last. Nor will Wes be the last person I invite to share in these experiences, creating more memories to last a lifetime. This once random spot on my farm is now called "Turkey Ridge," where this hunt will forever be stitched into my brain.