Every serious whitetail hunter aspires to buy 400 acres in a famed big-buck county with the right mix of agriculture and timberland. That's the dream. And while it's certainly attainable, there are plenty of small properties out there with big buck potential.
As farms get bigger, so do the costs (higher taxes, more food plot/agricultural seed, more equipment, etc.) and the time needed to manage the property. Think higher taxes, more food plot/agricultural seed, more equipment, and on and on. If you're searching for hunting land, don't overlook the potential of small hunting properties for sale. It's very possible to have high-quality hunting experiences on a piece of land that's 50-100 acres. You just have to know what features to look for.


Find Private Access to Public Land
Motivation to buy a private parcel comes largely from the desire to get away from public land. But the right hunting property bordering public land can be a diamond in the rough. Take a look at this small Wisconsin hunting property we sold to see what we mean: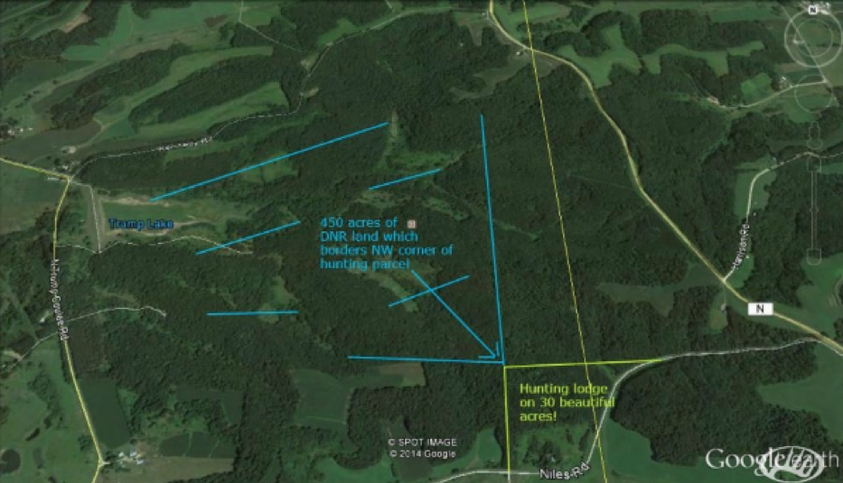 The corner gives the landowner access to the public land area that is rugged and far from other access points. We'd bet this area offers security from hunting pressure if the public land gets a regular amount of use. In fact, that particular corner has great bedding cover. Added to the sloping ridges flowing down from the corner and into open areas where an established food plot lays, and you have a pretty darn good combo of food and cover to hold deer on only 30 acres of land.
Not all small hunting properties that adjoin public lands are attractive though. High-traffic, high-pressure areas will be hard to manage. Before pulling the trigger on any property that borders public land, be sure to work with our land specialists and state wildlife officials to learn as much about the public land as you can.


Look for Small Tracts in Big Buck Country
Buffalo County, Wisconsin and Pike County, Illinois, are two of the top trophy-deer hunting counties in the nation and the price per acre is going to reflect that. It's the old quantity-versus-quality discussion. Would you rather own 50 acres of prime trophy whitetail habitat or 200 acres of so-so land? The answer depends on what you want, but a slice of land in famed deer hunting paradises can be found for a pretty palatable price. When it comes to buying these small parcels, it's important to check out the neighborhood.
We'll use the analogy of a studio apartment in a ritzy New York City neighborhood. It may not have a gourmet kitchen, but there are five-star restaurants all around. There isn't a backyard, but the neighborhood parks are meticulously maintained for recreation. As a resident, you have everything you could want right outside your door.
The neighborhood is the number one factor Iowa Land Specialist, Gabe Adair, looks at when finding small pieces of hunting land for his clients.
"In my neck of the woods, neighborhood is everything," said Adair. "If you find the right 40, 80, 120, 160 acres in the right spot, it's going to hunt like a 320-, 400- or 500-acre farm and you are going to reap the benefits of having that surrounding neighborhood around you."
Find the Missing Link in the Area
It's usually impossible to provide all the habitat a deer herd needs on a property that is less than 50 acres. Your biggest goal will be to hold deer on your property during daylight hours throughout the hunting season. It comes down to providing food, water and cover. Find what commodity is in limited supply and look for a property that offers that commodity or can be improved to provide it.
For example, if the surrounding properties are thick with dense timber, search for a piece of land that sets up perfectly for planting food plots, then make them the best food plots in the neighborhood with variety in order to attract deer during all phases of the hunting season. If the opposite is true and the area's predominate landscape consists of is open fields and farmland, look for a parcel of land that will provide cover and a sanctuary.
Buying small hunting properties comes down to finding the right spot in the right neighborhood. To get a piece of land that consistently produces awesome deer, let us help you search.